Fredbear's Fright is the main location and namesake of Fredbear's Fright.
History
The year of opening is unknown, however it is known that the game takes place after the events of FNaF 3, meaning that the setting of the game is after the year 2023. Fredbear's Fright was modified from the foundations of the first Freddy Fazbear's Pizza and was purchased by 'Fun Frights Incorporated' when 'Fazbear Entertainment' declared their insolvency and began selling off their assets. The building was rebuilt from the ground up and repurposed as a horror attraction, not unlike Fazbear's Fright, with props and animatronics reclaimed from the now decades old pizzeria's and repurposed to tell the ill-fated story of Freddy's Pizzeria.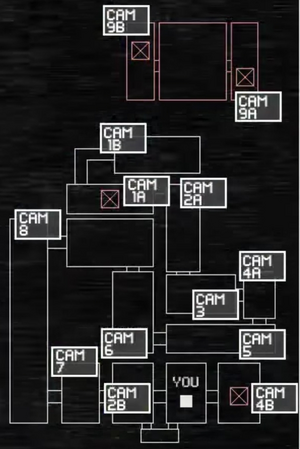 Most of the animatronics present are relic from the original pizza restaurants, however some are insinuated to be Prototypes made by Afton Robotics, and therefore either were never used by the pizzeria chain or were used in spin-off locations. Other props were repurposed from the FNaF 2 location, although most are either damaged or faded in some way. This was presumably left in order to add to the atmosphere of the attraction.
Appearance
Fredbear's Fright is never seen from the outside, so the only information available comes from the interior. The attraction seems to be a winding maze-like structure with multiple connected rooms designed to lead guests from one end to the other. The building is laid out so that the guests begin at the section dedicated to Fredbear's Family Diner and moves through the exhibits in chronological order, ending with the office from the first Freddy Fazbear's Pizza.
The rooms in order are as follows:
CAM 1B>CAM 1A>CAM 2>CAM 3>CAM 4A>CAM 5>CAM 6>CAM 8>CAM 7>CAM 2B>Office>CAM 4B
Fredbear's Fright also houses an attic which can be reached from CAM 1A and CAM 4B. This attic is off limits to guests and seems to be used primarily as storage.
Animatronics
Trivia
It is unknown if the events of Fredbear's Fright take place before, after, or during the events of the sequel.
The only animatronic not intentionally placed as an attraction is Fright.
Gallery