Custom Night is the sixth and secret night of Fredbear's Fright. It is not canon to the plot of the game so has not chronological placement in regards to the other nights. It is activated through the extras menu after completing Night 5.
Tactics
The tactics needed for Custom Night very depending on the active animatronics. The player is able to active or deactivate any animatronic and seat their AI difficulty level to a max of 20. Setting an animatronic to 0 will disable them for that particular play through. All animatronics follow the same behavior patterns used during the main gameplay: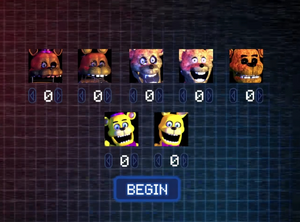 Custom Night does not have any preloaded challenges, and completing the night on any difficulty setting does not award the player with anything, other than a sense of accomplishment.
Trivia
The only animatronic unable to be activated during Custom Night is Fright.
Custom Night is the only time that the two Hand Puppets can be active without the other also being active and on the same difficulty.
Beating Custom Night on 7/20 mode does not award the player with a star on the start screen.